Welcome to the Mechanicsville Volunteer Fire Department

Hanover County Fire Station 7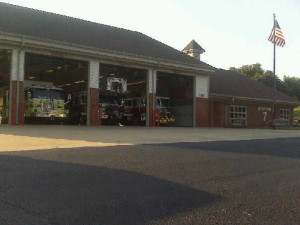 We are located in Mechanicsville, VA in the county of Hanover.  Also known as Hanover Fire Station 7, we are staffed 24 hours-per-day, 365-days-per-year by a combination of career and volunteer firefighters working together to form a strong group of first responders who answer the call to roughly 5,000 emergencies each year.
Since its founding, the men and women of the Mechanicsville Fire Company have held a legacy of professionalism, duty and honor.   We rely heavily on the community of Mechanicsville and Hanover County not only for their support in volunteering, but also for their many dedicated years of financial assistance.
With two fire engines, a ladder truck, a heavy rescue squad, an ambulance and a fast response/brush apparatus, Station 7 is equipped to respond to most any emergency situation.  We welcome you to take a look around our website, learn more about our history and always welcome our citizens to contact us regarding educational opportunities, volunteering and other ways that we can work together to strengthen our community.