In 1945, a meeting of citizens in the Mechanicsville area was held at the Mechanicsville Hardware Store, the outgrowth of which was the organization of the "Henry District Volunteer Fire Department".
Significant destruction of property from fires raised concern and the only fire company then in existence was the Ashland VFC.  Citizens in the community donated funds to purchase a 1936 Ford Pick-up Truck equipped with a small water tank and pump, which was stored in the auto garage of the Company's first Chief, L.M. Gannon.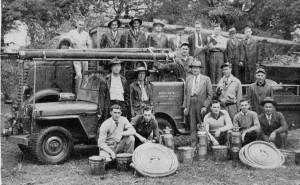 In 1947, the county's Board of Supervisors authorized the purchase of a Jeep fire truck with a 300 gallon water tank-trailer, and the next year authorized an additional tank truck.  In the first three years, with this equipment and 75 men, the company saved thousands of dollars worth of property, homes and timber.  A fire station was completed and occupied in 1954 and, in 1958, work began on a centrally-dispatched radio system to supplement the siren used to notify volunteers of an alarm.  In August 1961, a Ladies Auxiliary was formed with Sheriff Harold Bradley, a charter member of the fire company, as its first president.
In 1960, Mechanicsville VFC became the first company in the county to acquire monitor radios for alerting purposes.  A new 750gpm pumper was ordered and an addition to the fire station was constructed to house it.
One of Hanover County's worst fires occurred on U.S. 360 on April 18, 1990 when a tractor trailer loaded with gasoline struck a dump truck, overturned and caught fire ten feet from a building.  Burning gasoline flowed from the wreck down the highway and into the Chickahominy River.  The fire spread to adjacent buildings as well.  Mechanicsville VFC arrived in less than two minutes and despite the magnitude of the incident, the fire was brought under control in 72 minutes.  The driver of the tractor trailer died in the accident but no other injuries or deaths resulted.
Mechanicsville VFC has been innovative among the volunteer fire companies in several regards.  In contrast to many volunteer organizations, the company maintains "duty crews" to serve in the station during designated weekdays and weekends, freeing the remaining members to pursue their everyday obligations. By reducing the time spent in the fire station by its members the company is able to attract more citizens to serve.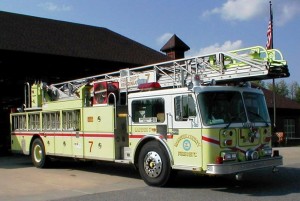 In September of 1981, Mechanicsville placed the county's third largest aerial apparatus in service and its first heavy rescue truck in 1988.  A new modern station was completed in 1992 located in the east end of Hanover County near State Route 360 and Interstate 295.  This is the site of Civil war battlefields including Cold Harbor, Gaines Mill, Beaverdam Creek and Chickahominy Bluffs.
Today, the Company operates 1 of 12 engine companies, 1 of 3 truck companies, 1 of 4 heavy rescue companies and an ambulance in the East End of the 492 square miles of Hanover County.
Some of our apparatus through the years:
Our stations through the years: